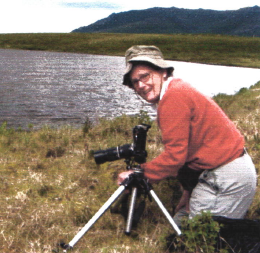 Kim Blaxland,photographing Viola epipsila repens. Yukon Territory, Canada, July 2009
Christine Blaxland (1941−2011) 女史は、オーストラリア生まれのスミレ愛好家で、独学でスミレの研究をおこない、"Botanical Journal of the Linnean Society" や "American Journal of Botany" など、著名な研究雑誌にその成果を発表しました。彼女はアメリカに住み、北アメリカ大陸の種を中心として研究・栽培をおこなっていましたが、アジア、オーストラリア、ロシア、南アフリカや地中海地方などにもスミレを求めて旅をしています。彼女が記載した種として、トルコ産の1新種 Viola dirimliensis Blaxland があります。また、彼女を記念して命名された雑種に、Viola x blaxlandiae J. M. Watson & A. R. Flores があります。
彼女は生前に多くの野生や栽培のスミレを撮影しており、スライドの数は3000枚を超えます。彼女が亡くなった後、夫の Christopher Blaxland 氏より、スミレ愛好家・研究者の役に立ててもらいたいと、2012年にそれらのスライド(北米を除く)が東京大学に寄贈されました。このコレクションは、故 Christine (Kim) Blaxland 氏が撮影した世界各地のスミレ属Violaの写真をデジタル化した画像データベースです。写真のデジタル化とデータ入力に際し、田淵誠也氏(日本すみれ研究会)にはひとかたならぬ協力を得ました。写真を寄贈してくださったBlaxland氏、田淵誠也氏には、ここに深く感謝の意を表します。スミレ愛好家・研究者のみならず多くの方に利用していただければ幸いです。
Born Christine H. Alsop 9 December 1941, in Sydney Australia
Died 11 December 2011, resident of Radnor PA, U.S.A.
Australian citizen
Married Christopher Blaxland 1965
Kim's botanical work was entirely independent and was not funded by any academic institution. She was a skilled photographer and botanical artist. Kim was a also an enthusiastic gardener and propagator of Viola spp. Her records show that she germinated 1300 specimens of Viola at home. Her garden in suburban Philadelphia had at various time some 100 species of Viola.
A nothospecies in Section Andinium of Viola has been named for her - Viola xblaxlandiae See Watson | & Flores A., 2012, Rock Garden Quarterly 70 (4), 367- 377
Education:
1958: Graduated from High School [Ravenswood School for Girls], and achieved the highest marks awarded that year in Botany in the New South Wales state Leaving Certificate examinations
1963: Bachelor of Science, University of Sydney, with Botany as the major subject.
Publications:
Blaxland, K. Botanical Journal of the Linnean Society, 2004, 145, 505-509: A new species of Viola (Violaceae) from south-west Turkey
Marcussen et al. American f ournal of Botany 98[12]: 1-11. 2011 Establishing The Phylogenetic Origin, History, And Age Of The Narrow Endemic Viola Guadalupensis [Violaceae]
Marcussen et al. Syst. Biol. 61[1]:107 -126, 2012 lnferring Species Networks from Gene Trees in High-Polyploid North American and Hawaiian Violets [Viola, Violaceae]